---
CHIEF CONCLUSION
Our research team believes it has identified a rare and powerful investment opportunity in real estate software to potentially profit from the multi-year real estate upcycle it expects to see.

---
"Software is Eating the World." – Marc Andreessen in August of 2011
We mentioned just a few weeks ago the importance of knowing whom to listen to when we profiled the thoughts of our old friend Barry Bannister. We made the point, then, and reiterate today, how important it is to know who is insightful in these markets – especially when they are confusing!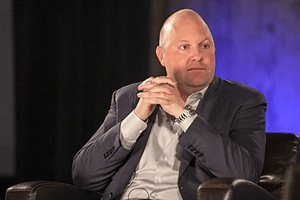 This week we profile another visionary worth listening too, this time in software. Marc Andreessen has been one of the most successful entrepreneurs and venture capitalists in recent memory. Andreessen, pictured above, co-founded the company that would become known as Netscape, which went public in 1995 and was sold for more than $4 billion to AOL. He went on to co-found another software company, LoudCloud, which eventually was sold for more than $1 billion. After this impressive run in software, he understandably turned his attention to venture capital investing in software by co-founding the firm Andreessen-Horowitz. And what a run he has had there too, investing in Facebook while it was still privately held and serving now on its board of directors. All in all, Mr. Andreessen has established himself as an important voice in software. The great news is that you can follow his thoughts on his blog where he and others at his firm write prolifically and thoughtfully on software. If you had heard his quote above ago – and heeded it –your net worth would probably be a lot higher. The record of the last decade is now clear: software truly has eaten the world, as the chart below of the 600% total return of the software index since the date of Mr. Andreessen's comments.
---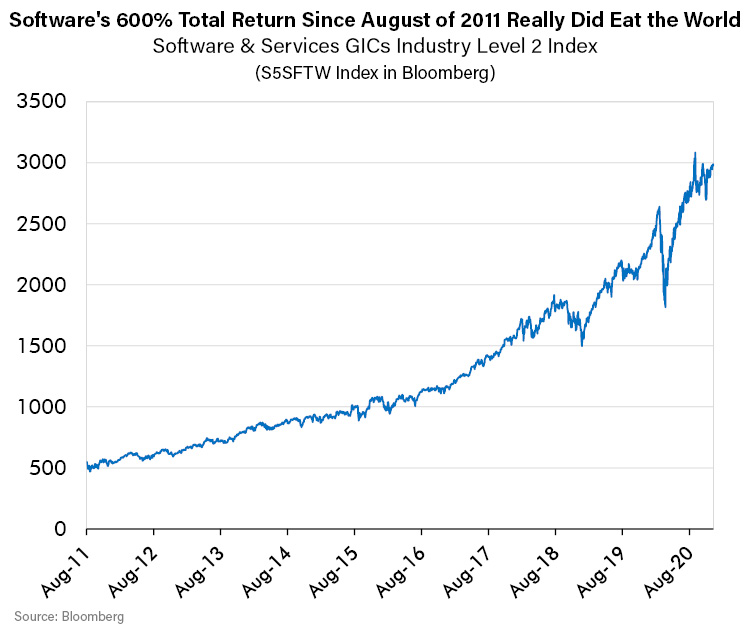 ---
Of course, we as investors are far more interested in the future than in the past. But with this useful context we wanted to kick off today's "Trends and Tail Risks" deep dive on what we believe is an emerging opportunity in the real estate software sector.
Could Software eat the World of Traditional Real Estate Brokerage?
Real estate brokerage has remained unchanged for many years here in the States. That may be changing with the growth of a new breed of software companies combining real estate search, financing, and brokerage in one easy-to-use money saving solution. We are intrigued by the potential for disruption here for several reasons. First, we love to own the shares of companies solving big problems. Large addressable markets can mean that winners – when they win - can win big. Second, we value the scalable economics of the software business model, where profits grow more quickly than sales as the business grows. Third, our experience is that big change can be controversial – and the bigger the change, the greater the controversy – and the more interesting the investment opportunity the higher the potential return.
Finally, we are intrigued by how lavishly the internet age has rewarded its winners with a "winner take all" valuation and overwhelming market share. Look no further than the dominance of internet titans Amazon.com, Google, and Facebook. Our research team is very excited about what this could mean for the innovators of real estate software. Furthermore, our enthusiasm for its prospects is heightened by the favorable tailwinds for the real estate cycle that we outline below, whose many merits we believe are underappreciated by today's investors.
"My own theory is that we are in the middle of a dramatic and broad technological and economic shift in which software companies are poised to take over large swaths of the economy." – Marc Andreessen
One of the most important lessons I have learned in my investing career is the value of having multiple ways to win. Multiple ways to win means limiting your potential downside while maximizing your potential upside. Such investments have what our research team has described as a lot of optionality. High optionality is important because sometimes it seems in an investment that nothing works – but sometimes, and these are truly rare - sometimes multiple aspects all come together to create truly special performance. All it takes is a few such investments in a portfolio to supercharge your portfolio's returns. When our research team finds what it thinks might prove to be such an investment, it gets excited. We believe that we see this potential in the real estate software sector, as we explain below.
We have written before about our conviction that the real estate cycle is set for a powerful multi-year upcycle. We will briefly summarize our thinking as follows. First, our long study of this cycle suggests to us that we are due the most powerful phase of the Kuznets real estate and infrastructure cycle, that last peaked in 2006. This cycle has expressed itself powerfully in past peaks on average every 16 to 20 years or so, peaking last in 2006 and before that in 1989, 1974, 1958, 1937, 1920, and 1907 just to name the last six prior peaks.
Rather than be continually surprised by such "unexpected" cycles, we prefer to study their history and recognize them as they first begin to flower. We believe that one of the pro tips in making money in cycles is to steal a march on those investors who have neglected the study of cycles. This vast pool of investors labors under the heavy burden of confronting an untidy future, un-informed by all that has happened before. We don't want to miss such opportunities, and we strive to embrace them when they come. We believe now is one of those special times to profitably own real estate.
Another reason we like real estate, and are seeking clever ways to profit from our expectation of a looming upcycle for it, is our long-held view on interest rates: lower for longer. Two years ago, our views on this trend were much more controversial. Now, with some of the lowest yields in U.S. history and nearly $18 trillion worth of global bonds trading with negative yields, our view is not as controversial. Nonetheless, ask yourself this question: what might the future hold for real estate prices given how low yields are now? Shouldn't that be a positive tailwind for the ability of people to pay more for real estate that is financed at the lowest interest rates ever? Might investors seek out real estate as a potential substitute for the shrinking returns once earned from bonds?
Furthermore, we would share with you one lesson we have learned about cycles, which is that they tend to peak with confidence and the aggressive application of borrowing. We believe we are a long way from that today in real estate, with the Covid-19 pandemic raging. For instance, the last real estate cycle peaked only after three full years of double-digit growth in mortgage borrowings. Contrast that torrid pace with today's mortgage growth of only three percent. Finally, of course, we have the seismic events that defined 2020: the Covid-19 pandemic driven trends of working from home and the flight from the cities. These combine to create a scenario, in our opinion, where we have multiple ways to capitalize in real estate. This confluence of trends is starting to drive real estate prices up – and is taking place against the backdrop of the smallest existing home inventories ever. Low supply and rising demand!? Sign me up! In our opinion, this is a remarkable confluence of powerful trends and helps to summarize why we are so bullish on the unfolding real estate cycle we expect to enjoy in the coming years.
"Over the next 10 years, the battle between incumbents and software powered insurgents will be epic." – Marc Andreessen
In Conclusion
The framework of seeking out multiple ways to potentially profit has served us well in our investing career. Rare though these examples are, we can remember fondly the times when seemingly all aspects of an investment thesis came together. Fondly too do we remember their powerful returns!
Today we have outlined why we believe we see those many threads coming together in real estate. Our job as a research team, however, does not stop with a differentiated view on the real estate cycle. Rather, that is just the beginning of our job as classically trained, bottom-up investment analysts. The most potentially impactful insight of all is the investment we chose to express that favorable view.
We believe we see in the publicly traded real estate software companies the opportunity for them to eat the world of the traditional real estate brokers. If we are right, we stand to benefit from the secular tailwinds of a powerful real estate cycle supercharging a scalable business model primed to gain market share for many years. In our opinion, that is the kind of disruptive potential that investors should be seeking out and patiently holding. We certainly intend to!
---
Picture Source: Marc Andreessen, Wikipedia
---