---
Market Caviar Independence Day Edition:
Happy Birthday America! Twelve score and two years ago with the signing of the Declaration of Independence, a great country was born. Our country's founders were right and the political, economic and social systems they put in place unleashed an economic and social machine that today has a GDP of twenty trillion dollars, an equity market capitalization of thirty trillion dollars and a bond market of over forty trillion dollars. Each of these figures are many multiples more than other large developed market countries and is why we have maintained a bias towards US investments.
---
I started writing this week's edition of Market Caviar on share buy backs when I realized The 4th of July is already upon us. It then dawned on me that my last Independence Day in the US was eleven years ago so naturally, share buybacks are taking a back seat for now. Happy 242nd birthday America!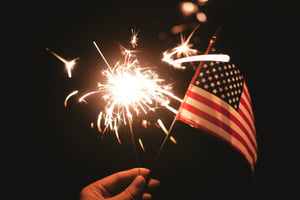 Imagine this, from 1776-2018, our country has generated around one hundred trillion dollars of wealth for Americans! Without going through a history lesson, lets agree that our country's beginnings were not warm and fuzzy. In fact, it was not until the 1783 Treaty of Paris that Great Britain, Spain, and the Netherlands acknowledged that the United States even existed. What happened after that is nothing short of a miracle.
While I am very lucky to have lived and worked abroad, I am luckier to have been born in the United States. Warren Buffett describes this as the "Ovarian Lottery." Berkshire Hathaway's 2017 annual letter notes, "Our efforts…will be aided, as they always have been throughout our managerial tenure, by America's economic dynamism. One word sums up our country's achievement: miraculous."
Even today, the pull towards America is so powerful, it motivates people to leave their homes and families all on the hope of opportunity, freedom, dignity and respect just as my parents did in the late 1960s. In America, regardless of your background if you get up every day, put on your uniform, work hard and try your best, you will be rewarded based on your work and achievements.
Indeed, there is no other country in the world that has the same formula of success:
ingenuity,
capitalism,
democracy,
can-do culture,
people – respect for the individual and his own merits and success – not who your father is, or how old your family is, or where you came from, but who you are and what you have achieved. America values success!
the rule of law.
The economic and social machine that our founding fathers created worked so well, that America became the largest economy in the world in less than 100 years.
Throughout our history we overcame insurmountable challenges by working together. The sources of calamity are never the same nor are they, if ever, predicted. The one constant in each case is our emergence bigger, faster, stronger, better and smarter.
American "dynamism" is the driving force and our capital markets are the biggest and most liquid in the world. Having the right system and incentives in place is critical, however, having the right people is equally important. Previously I mentioned that it took America around 100 years from inception in 1776 to become the world's largest economy. Even more incredible is this feat was achieved around 10 years after the Civil War ended in 1865. This is a true testament to the people and culture of our great country.
More recently the Global Financial Crisis brought global markets to a standstill. The US was the epicenter for that financial earthquake, but miraculously to some (but not to us!), we led the world in growth out of that conflagration. Our capital markets and entrepreneurial spirit helped push forward "shared economy" business models that now include the likes of Uber, Airbnb and Lyft.
These start-up companies accessed capital during a time when banks themselves needed government support and bail outs. That tells you everything you need to know about the dynamism of the American economy.
Every few years we are told that America's time at the top is coming to an end. This has been the case since 1776, and I imagine that we will continue to hear such things well beyond 2076.
Our research efforts are global. We will not hesitate to "go where the action is" especially when we can do so at compelling valuations that we believe may limit our downside. The carnage now unfolding in emerging markets, with many down 30% or more in just the past few weeks, has taken many by surprise. Many of these investors misjudged the risk they ran in investing in such markets with inferior corporate governance and weak institutions, unlike those we have in the US. They are paying the price for this mistake now.
For value investors like us however, the best opportunities often are born in the wreckage of others' mistakes, so we are watching these "submerging" markets with renewed interest. I believe the day is coming when we can announce to you that we have found the value we seek in these troubled markets. But even then, you can rest assured that we will never turn our backs on our own American markets, which are truly the envy of the world.
For all these reasons we believe that our bias toward investing in American companies is appropriate. This is about getting the BIG things right! We don't see America losing, we see her winning.
I hope you enjoyed reading the Independence Day Edition of Market Caviar. Have a wonderful Independence Day. •